---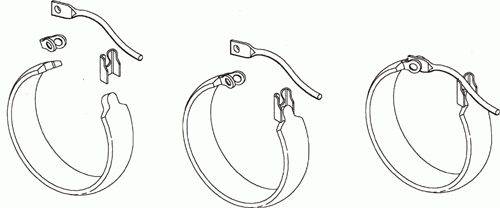 NEW ITEM 1
This is the classic "Wedding Band" earring comprised of:
1983 blank
1949 joint
1932-62 catch
1955 Euro-Wire
---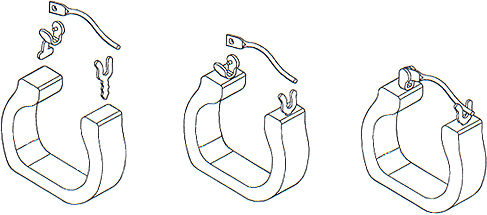 NEW ITEM 2
These 3 items along with your earring casting offer the "High End" look of gold without the high end intensive labor cost.
1985J joint
1983C catch
1955 Euro-Wire
---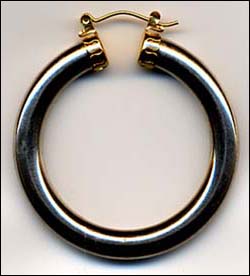 NEW ITEM 3
This is a unique one piece cap/catch and cap/joint that eliminates the soldering operation (see #1984) and is designed to be glued (after plating) to metal, wood or plastic hoops of sizes .200" and .240". Any one of our curved or straight ear-wires is made to be used with these items. The size is determined by the gap that you create on the hoop.
United States Patent No. Des. 359706
---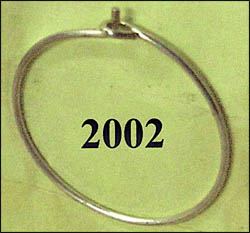 NEW ITEM 4
20 MM Sterling Silver Hoop
---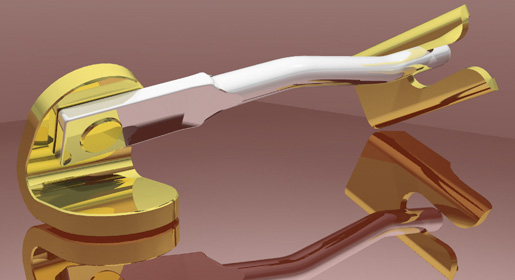 NEW ITEM 5
# 2006 Mini- Joint
Shown here with the 1955L Sterling or Stainless Steel Euro-Wire, and the 1932 Rabbit-Ear Catch, also offered in both Sterling Silver and Brass.
This Mini-Joint is designed to be soldered at the top of Any Ear-Ring Blank and yet it is just Delicate and Feminine enough to maintain the "High-End" Gold Look, by accepting the Classic 1955L Euro-Wire.
The labor savings here is substantial, in that this Mini-Joint Eliminates the need for slotting, drilling and riveting, by simply fitting the pierced hole in the 1955L Euro-Wire over the protruding Anvil in the Mini-Catch, and closing with a Jeweler's Plyer.
---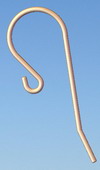 NEW ITEM 6
This Longtail Fish Hook Ear-Wire is new item # 6 bearing the number 2002FH. The overall length of this item is 1", and is offered in Sterling Silver, Gold/Filled and Brass. Call or E-Mail for free samples.info@deangelistool.com


---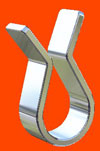 NEW ITEM 7
This delicate little Earring Catch is New Item #7, bearing the number 1979A. It is produced in Sterling Silver, Gold-Filled and Brass. When produced in the precious metals it is intended to appear as delicate and feminine looking as possible for soldering at the top of an earring blank. info@deangelistool.com
---
Call or write for Samples.
(401) 861-3037 Office
(401) 339-7248 Cell
info@deangelistool.com